Nile Mansions Hotel
2014. Archive

Nile Mansions Hotel is an artwork that at its essence explores the cogency of history, story and memory. Presented as an archive, Nile Mansions Hotel is an account of childhood memory of Uganda between 1980-1985. Using memory as a navigational device to guide the reader through the archive, the work endeavours to recast the past to make the central protagonist of the history of Uganda a child's idiosyncratic memory. The contents and materiality of the archive are offered up as a chaotic collection of often conflicting interpretations and impressions, some that support and others that refute the child's memories. Included in the archive is an ongoing correspondence between the artist and the father, who as member of the Government of Uganda from 1980-1985, was able to lend a counterpoint of the history to that of the official narrative.
When looked at as a whole, this collection, this archive, is a story about a family in Uganda and the awe, loss and uncertainty that they endured.
/
Multiple Media
Audio: Dj Global
Installation View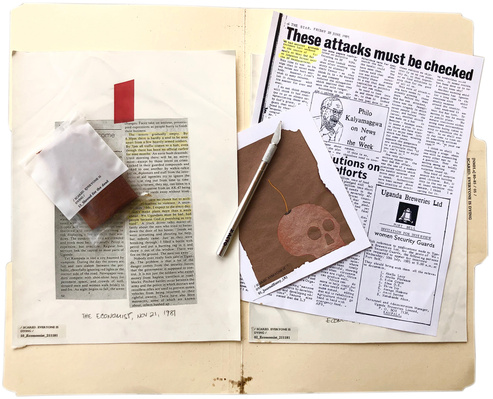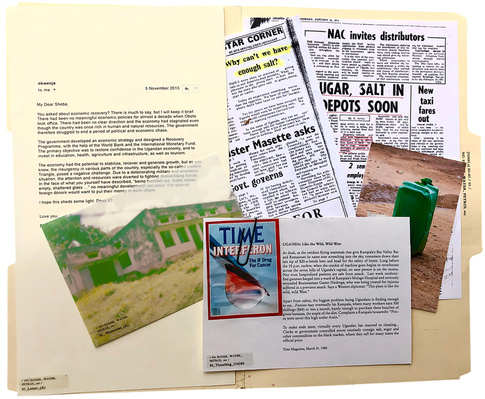 Artist Statement
I was seven or eight, I think. We were living on the third floor of the Nile Mansions Hotel. One night they fired bombs and grenades at us. My father looked out of the window and told us that we were under siege. He tried to protect us with his body. This is my memory. My sister does not remember this. She remembers that we lived above a torture chamber. Once, she'd leaned over the balcony railing to look at the floor below. She saw a soldier leaning on the blunt end of a bayonet, eating lunch. The pointed end was in the back of a man lying on the ground. I don't remember this.
Of my history, I have this particular, fragmented memory and many more. With this project, Nile Mansions Hotel, I have created an archive to provide a context for what I am remembering.